Ciltvaira's biography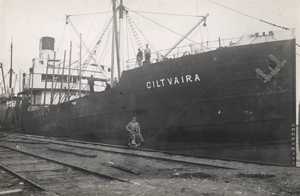 This picture was taken of the Ciltvaira about 1939 during one of its last calls to homeport in Riga, Latvia before leaving never to return. Photo Courtesy Of Chas Daily/Private Collection Of Dmitry Dmitriev, Riga, Latvia
The eight Latvian ships -- Ciltvaira, Everasma, Abgara, Everalda, Regent, Everelza, Kegums and Everagra -- that made up the small fleet operating under the authority of that country's government in exile during World War II shared more than just the Latvian flag.

They were built between 1903 and 1921 in Britain by J.L. Thompson and Sons, Ltd., said Joseph Schwarzer, director of the Graveyard of the Atlantic Museum in Hatteras.

After WWII, one of the two remaining ships, the Kegums, was renamed the Everest when it was returned to Latvia in 1946. The other ship that survived [name unknown] was sold to Honduras that same year.

Remarkably, although six of the ships were sunk in various parts of the Atlantic Ocean, by the end of the war, said Schwarzer, there were only two prisoners of war and a total of 34 deaths. The average crew size was 34 members.

The Ciltvaira, sunk off Nags Head Jan. 19, 1942, took her fourth name to the bottom.

Owned by Johann Feymann, Janis Salemans and Karlis Jansons, the single-screw steam-powered freighter was named the Endsleigh from 1905 to 1907, the President Bunge from 1907 to 1924 and the Twyford from 1924 to 1935, when it was changed to Ciltvaira.

The 346.7-foot-long Ciltvaira could travel up to 8.5 knots. Its beam was 50 feet 10 inches, gross tonnage was 3,379 and dead weight was 6,249 tons. It had a draft of 21 feet 5 inches.
Although it is held that the ship sunk off shore of Nags Head, Bill McDermott, owner of Outer Banks Dive Center, said that the exact location is still a mystery. Divers have long held that the "green buoy" wreck is that of the Ciltvaira, but McDermott said that that wreck has a gun turrent and photographs taken right before the Ciltvaira sunk shows it didn't have one.

-Sandy Semans