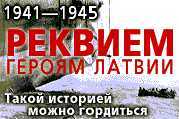 [Requiem to the heroes of Latvia]
Two captains
• If it were not for Sergey, Nikolay and June would never have met each other
They were the same age. They grew up together and studied together -- Latvian seamen and Riga dwellers Nikolay Jakimovich and Sergey Bol. They kept their allegiance to the Latvian flag in 1940. They fought Nazis from 1941-45 under that flag. They remained friends after the war, when the Iron Curtain irreversibly made their return to their homeland unthinkable.
Alexander KRASNITSKY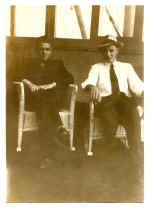 All photos -- courtesy of Jakimovich--Jakims family.
(Click on the thumbnails to enlarge!)
Two captains -- Sergey Bol (left) and Nikolay Jakimovich.
«When the war started we had eight ships and when the war ended we had but two. I was the youngest captain and I had the oldest ship, - recalled Sergey Bol in 1980. - I remember a fortune teller in New Orelans told me I would go through some hard time and bad periods but I would come out alive. She was right, for my sake».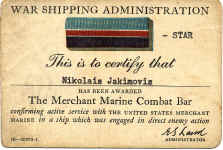 One of Nikolay Jakimovich's award ceritificates.
In the summer of 1940 Sergey Bol was 32 years old. Just a year earlier he obtained a first navigator's certificate and was appointed first mate to the Everasma. There he found himself on the same deck with Nikolay Jakimovich, his old friend ever since they both attended Krisjanis Valdemars Maritime School. «He was his best friend», June Jakims, widow of Nikolay Petrovich Jakimovich told Chas.
A radiogram from Riga -- a message that Soviet rule had been established and an order to sail to Vladivostok -- caught the Everasma off the Chilean coast. Instead of obeying the order, Captain Mikelis Perkons headed to the nearest Chilean harbour. For the Everasma's crew, their stay there became an echo of events unfolding in Latvia: 14 sailors left the vessel and departed for the USSR.
Soviet representatives specifically warned crew members of Russian descent: if they refused to follow the order to return, their relatives in Latvia would suffer. Native of the Russian Tambov province, but citizen of the Republic of Latvia, navigator Sergey Bol made his choice. (According to yet unconfirmed information obtained by Chas, the family changed its name in the very beginning of the 1920s: trimming the ending from «Bolshakov» down to just «Bol» (Bols) -- in order to avoid «political» repercussions. So, his decision was fully predictable.)
Sergey Bol remained on the Everasma -- under the Latvian flag, together with the Captain, 3rd mate Jakimovich and more than half of the crew. Much, much later Captain Bol would learn that his brothers in Riga paid for his decision: Soviet authorities removed them from ocean-going vessels and put them on harbour tugs. As to relatives of Nikolay Jakimovich -- his brother Konstantin did not survive WWII.
The Everasma left for New York.
Catch the Soviet Spy!
Then Sergey faced a problem. Unwillingly, he became a participant of a tragi-comical parody of Joseph Stalin's "cleansings": «When we arrived the people from the Latvian embassy removed me from the ship. Then, though, I was put back on and went to Mobile, Ala., where they removed me again. The Latvians said I was a Soviet spy and that I never attended navigational school. I tried to to prove to them I had, that I started on sailing ships when I was 14 years old, that we had no money when I was growing up, but I could go to navigational school and went there for 10 years, but they would not listen...»
Conflict with the embassy, however, was if not extinguished, than at least put on hold. Sergey Bol was appointed to the Everagra, another Latvian-flagged steamer, as a 1st mate. At the very end of May of 1943 he was promoted to be its captain. A month later, on July 8th, vessels of the Allied convoy TJ 1 (Trinidad to Bahia) were attacked by several Nazi U-boats, including the Everagra. A torpedo from U-510 hit the Everagra, ripping a hole in her board. The captain and his crew saved the ship and brought her to port for repairs. The Everagra survived the war.
Contact between Captain Bol and the embassy, so conflict-ridden in the beginning, continued until at least the year of 1953. Copies of documents in Chas possession prove that Sergey played a role in the search for missing relatives of Latvian sailors, who had stayed in the West. Thoughout WWII, it was not uncommon for brothers to set sail from the same port, but aboard different ships and be unaware of the fate of the other brother. Probably, this happened to Vladimir and Grigoriy Kotovs and the Marinins brothers, originally from Ainazhi. One of the Marinins, Konstantin, survived the torpedoing and subsequent sinking of the Regent, the fourth Latvian steamer sank by the Nazis in 1942. However, Chas intends to devote a separate story to this topic.)
The Everasma, with Nikolay Jakimovich aboard, met a different fate. As Chas readers already know (19.03.03), on Feb. 28th, 1942, the steamer sailing under Latvia's flag was sunk in the Atlantic by an Italian submarine, more than 1,000 kilometers from the nearest shore. It took more than 5 days for a lifeboat with Jakimovich and other crewmembers to reach land.
After the war both friends met again. Possibly, they served together onboard both the Everagra and the Kegums, the second and the last Latvian steamer to survive the war. While there is no hard proof of such service, June Jakims has photos of both vessels, made after the war by Nikolay Petrovich Jakimovich. And it is known for sure that until 1946 Sergey was captain of the Everagra and then commanded the Kegums.
In the 1950's life again separated the two friends -- but it was incapable of alienating them. By the end of the decade Captain Sergey presented the most precious gift of all to Nikolay. In 1959 Bol introduced his friend to June, who would become Nikolay's wife a year later.
«We loved each other so much»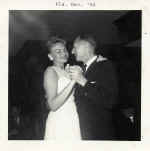 Nikolay and June, 1962.
(click to enlarge)
«I met him through Sergey... They were in the war together, and they were on different ships together. Sergey was a friend of my family -- of my father's and it was he who more or less set it up. He just said that these two should be together», -- recollects June Jakims, Nikolay's wife, whom Chas found after a 3-month search. June Jakims lives in Lake Worth, Florida, in the house, once bought -- «built», as she puts it -- by Nikolay.
Their romance should have been impossible from every point of view. The age difference between June, an American Swede, and Nikolay, a Latvian Russian, was 26 years. She was 25, he was 51, and in any other case this would have been enough to doom everything.
«My family talked about him so much, that he was so perfect, this Nicholas. It looked very much like a set-up for a blind date and I didn't like that. I was very much on the defensive side. We met at my father's business. I just looked down at him and I told him "So, you wanna get married?" And he laughed and replied: "Maybe." "Never!" I said. I tried to do everything I could to turn him away from me, but he was a perfect gentleman, so kind, so sweet, so persistent... He just wore me down...»
This relationship, which started so strangely, grew to become a real and true love. Nikolay died long ago, but even today June avoids speaking about him in the past tense and calls herself his wife and not his widow.
«There was no barrier between the two of us whatsoever... We were so much in love with each other that it was simply unreal. No age difference or whatever troubled us. And believe me, I was more jealous of him, than he of me.» -- recollects June.
June and Nikolay got married in 1960. A Russian sailor from Latvia, still cut off from his homeland, found something he had been deprived of for 20 years -- a home on the shore. He adopted two boys, June's sons from her first marriage. He wanted to have «a real Orthodox church wedding with crowns and choirs in the cathedral in Miami», but it never came to pass: «He was at sea so much. He sailed these big ships all around the world. He was at sea maybe for three months and then he came home for three weeks and then he would go out again... He was a real sailor.»
This story, says June, she will never forget: «He was giving the boys a bath in the tub, and I was making dinner. He came out for something and kept the water running. When I saw the water running down the hallway, I started screaming. And my Nicky rushed in and started to ask me "Honey, what's the matter?" But all I could say was, "Water, water!" And the first thing he did was to run outside and when he returned into the house he was wearing his ship's rubber hipboots. I started to laugh: "Nicky, if we were at sea and I was falling overboard I'd be gone by now while you were putting on your boots!"»
It was a joke, of course. June had only a theoretical idea -- what does it mean to be on a ship sinking in the sea? Unlike Nikolay, who knew.
«He would never ever consider himself to be a hero!»
Judging by June's words, one may conclude that her husband survived at least two separate sinkings. The first one was the Everasma's torpedoing and the second one -- «off the shore of an island» the name of which June doesn't know. (It is possibly that the second disaster was with the Regent: she was sunk three months after the Everasma, on June 14th, 1942 in the Caribbean. Out of a crew of 32 sailors 18 hands were lost to the sea.)
The Allies gave high recognition to the bravery of this citizen of the Republic of Latvia Nikolay Petrovich Jakimovich. «He had many medals, possibly a dozen, but he gave them to the boys. You know what kids are like... They lost them... He would never ever consider himself to be a hero! He just did what he felt was right,» tells June.
Nikolay did not like to speak about the war years, and the only one for whom he made an exception was Captain Sergey Bol. He also continued to sail to sea, but the old friendship held intact. When it was impossible for them to meet, the two Captains exchanged letters. One of Sergey's letters, kindly presented to Chas by June Jakims, starts with the Russian «Kolenka», though the rest is written in Latvian.
When both captains were onshore at the same time, they met at least once a week, recollects June: «They spent the whole day together and the evening as well... Sergey and Nicky called it "boys' night out"». And only with Sergey did Nikolay speak at length about all these endlessly painful things -- about the war and their lost homeland. «Nicholas spoke 9 languages fluently and they talked and talked switching from one language into another, from Russian to Latvian to English... Nicky read books and newspapers in these languages, but always on the ship. He never brought them home. He kept that pretty much to himself and he didn't want to dwell on it because during the war there was so much suffering and as far as he was concerned that was all behind him».
Sailor returns to the sea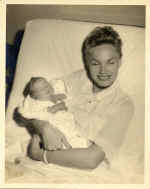 June and the newly-born Nicky June, Feb. 3rd, 1964.
(click to enlarge)
«He was on a voyage when he first felt sick. When he came home he had a hard time swallowing, he almost couldn't eat. I was pregnant and sometimes I threw up, and initially we thought that maybe he was having sympathy pains with me. And then we went to a specialist and they found a tumor. I put him on a plane up to Baltimore, to John Hopkins hospital. The tumor was malignant, and doctors started all kinds of radiation. And don't forget it was in January and our daughter was due in February...
Then Nicky June, our daughter, was born. Just imagine: I am in a hospital here and he is in a hospital there, and we only get to speak to each other over the phone. He was so worried about what was going to happen, he was worried about us, but I was telling him that everything will be OK... Then I received a letter from the hospital saying that the cancer had spread to his liver and bones. But they wrote that they're sure he will be home soon... But it was something in the letter that I panicked. I got on a plane that night -- midnight -- and I got to Baltimore. A cab driver was able to find a place 4 blocks away from the hospital, a lady there rented rooms. So I was there at about two o'clock in the morning. It was snowing, and at 6 o'clock in the morning I walked in the snow to the hospital, to my husband and I stayed with him until late in the evening, and I did that every day.
He never returned home, he never saw our daughter, he never held her in his arms. Thirteen hours after she was born we were photographed and I immediately sent him the picture. When I first came to him in the hospital, the photograph was at his bedside...
He died a week later on Easter Sunday, on March 29th, 1964. I can not tell you the pain and the grief. And I still feel it.
As he wished, he was cremated and his ashes were scattered at sea. I called an Orthodox minister who came in to get it right... He was -- he still is! -- a lot of my life.»
Sea captain until his last day
Even after Nikolay's death Sergey Bol remained a friend of the Jakims family. He continued to sail to sea and even after retirement in the 1970s remained the captain: he found work as a bridge tender in West Palm Beach: «It's better than sitting at home and watching television. Besides, my wife says she is the captain of our house and tells me I don't do things right. She says I even water the lawn wrong», laughed Sergey Bol in a 1980 interview with the Palm Beach Post.
It's amazing, but June Jakims relayed to Chas a very similar story -- about her husband: «Once when he was at home I picked up the shovel in the garden. He came running and took it away from me saying, "I'd be damned if I'll allow my wife to dig holes in the garden while her husband's at home!" And then it was time to water the hole and he grabbed the hose, soaked himself and I told him: "Nicholas, look. I don't tell you how to run the ship, so don't tell me how to run the house!"»
Nikolay Jakimovich married June, a Swede. Sergey Bol married Effy, a Finn. However, unlike June, whose parents lived in the States, Captain Bol's wife had no relatives in the US. Contact with the brothers of Captain Sergey, who remained in Latvia, broke off in 1940 for the next 16 years, until Khruschev's thaw. One brother returned to sea after the war. Chas was unable to clarify the destiny of the other.
The work of a bridgetender indeed is somewhat similar to captain's work: to manage the traffic and pedestrians before the bridge is opened and then recorded in a logbook data about passing vessels. However, the second major skill of Captian Bol, medicine, was useless onshore. «As a boy I wanted to attend a medical school, but there was never any money for that. Then it was Maritime School, then the war... I studied and learned all about medicines. I've sewn a lot of men together and done hundreds of stitches... The only thing I couldn't do was deliver a baby, but easily cracked any simulator».
«I guess I'll be a bridge tender for as long as I can work, -- allowed Sergey to the Post correspondent. -- They still call me captain around here».
Captain Sergey Bols died in Florida on May 1st, 1983. He had no children.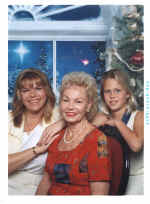 Christmas 2002. Nicole June Jakims, the daughter of Nikolay Jakimovich (left), his widow June Jakims and his granddaughter Daniela.
(click to enlarge)
The Jakims-Jakimovichs family lives in Florida. June Jakims has three children, seven grandchildren and two greatgrandchildren. «We are proud of the name Jakims -- tells June. -- All my life I have talked to my daughter about her father. Sometimes we talk about going to Riga to see it and sort of inhale the atmosphere where her father was born».
-------------------------------------------------------------------------------------------------------------------------------- Chas wishes to express its deepest gratitude to all those, without whose help this report would be impossible: Elizabeth Rutens and Brian Collins of San-Francisco, as well as colleagues from the Palm Beach Post (West Palm-Beach, Fl.) and the Outer Banks Sentinel (Nags-Heads, NC). --------------------------------------------------------------------------------------------------------------------------------
Originally published in Chas daily on May 2nd, 2003 in Russian.